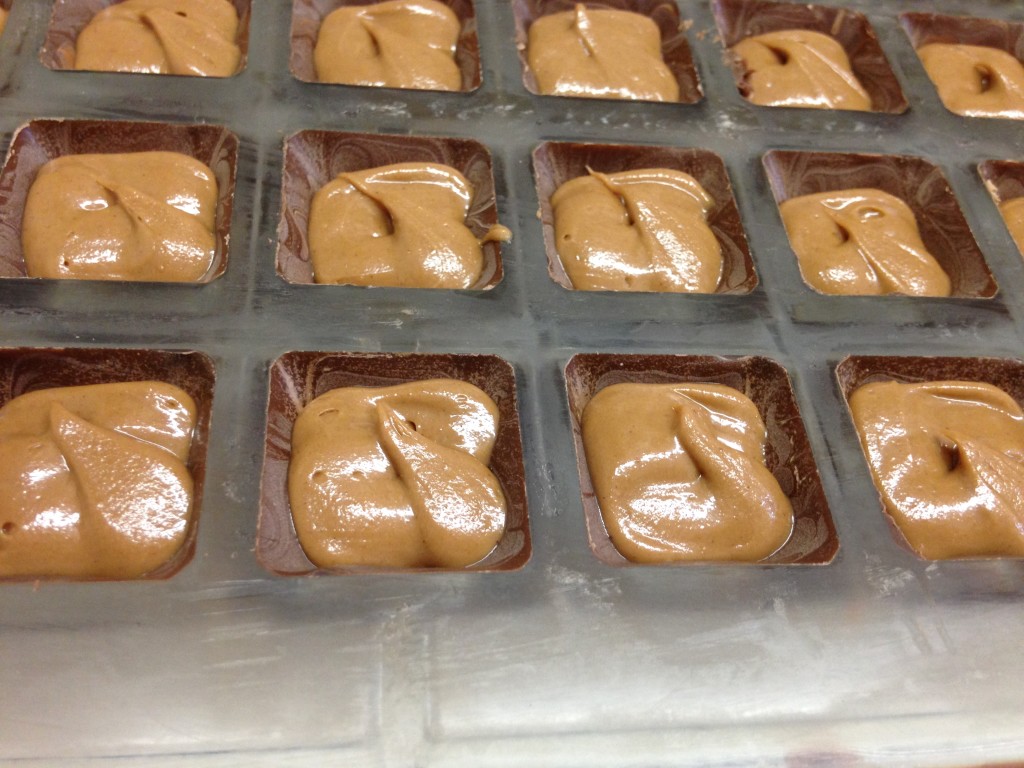 The thing about Anthony LoPinto is, he loves food, he loves people, and he loves the planet. You can feel this warmth in everything about him—from his conversation to his consommé. We talked together Monday morning about his holiday chocolates and upcoming wine and extravagantly-delicious food pairing scheduled for December 19th at CILK119.
"Yes, we'll be serving last year's squash soup," Anthony laughs. "A participant of the tasting for fall of 2014 took some of the seeds from the hubbard squash I cooked, and in the spring, gave me a seedling. I planted it in my garden and the fruit it bore will be mixed with honey dumpling for this year's tasting." The community connections apparent in the sourcing of the squash belie the profound intentionality that is behind Anthony's delectable creations. A circle of loving care for the planet is completed with the meals he creates. And then of course there are new seeds to sow.
"My daughter has been stirring the bucket for the biodynamic crops since she could walk. I guess she got splashed with enough of it that writing about cover crops comes naturally, " Anthony tells me, explaining that Isabella said she didn't need his help on an essay for school. Her teacher was impressed with her understanding of sustainable practices. Good, fresh food that comes from a nourished earth is a touchstone that inspires Anthony's cooking and is manifested in his family and life…and his chocolates.

The sumptuous bon bons that Anthony is offering this holiday season (and will be served at our fête on the 19th) taste incredible and are quite distinct from much of the chocolate on the market. "People have gotten used to expecting a piece of chocolate to last 6 months or more…What they don't realize is that there are dyes, sulfur, wax, petroleum, and preservatives in that chocolate." Synthetic vanillin for example, an ingredient in many chocolates, is made from either the lignin wastes of the wood pulp industry or guaiacol, a petrochemical precursor. Anthony's chocolates don't have any of that stuff in them. 
"My chocolates have a ten day shelf life. Now that people are becoming more informed (with the advent of local chocolatiers), they taste my product and they understand." Almond Rocher, Tahitian Vanilla, and El Porto chocolates, Maldon Sea Salt Truffles, Caramels—these delights are whipped up to order and deliver a unique chocolate experience. "The time was right and things came together," Anthony says. "We are excited to get back to making chocolate."

But chocolate is not the only thing Anthony has been up to. He was a coach chef for Master Chef Poland this year, appearing on camera in Eataly and other hotspots in NYC to teach one of the contestants a thing or two about about making a good meal. The Master Chef contestant did quite well under Anthony's tutelage! (We will try to post some clips from the show.) Anthony has been hosting tastings at Torne Valley winery and Growler and Gill, a craft beer shoppe and restaurant in Rockland county. He also worked with the owners of The Filling Station to open their new spot in Haverstraw and to perfect the gourmet menu at the 9W Market. 
Now, just so you know, the dream (that many of us cherish) of Anthony opening his own restaurant in Nyack, is actually in the realm of possibility. He has been doing some research and is looking for the right spot. So far problems of parking and zoning for a wood-fired cooking stove have been prohibitive but we are still hoping that the perfect place presents itself. Until then we have his wine and food pairings…
His next class at CILK119 will be a wintry wonder. Potato and smoked trout salad, braised short ribs with buttered rutabaga and other root vegetables, risotto with pears and chestnut cream, and of course the squash soup and bon bons! We feel lucky to have Anthony grace us with his mouthwatering meals and insight on great wines. The gatherings are always instructive and fun. Anthony is in the midst of a training at the Sommelier Society of America in NYC so he'll have some new thoughts on spirits to share with us on the 19th. We can't wait.