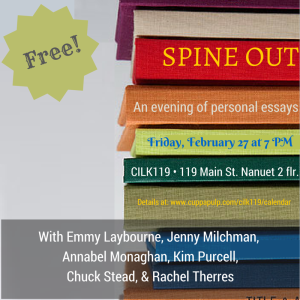 So I was sitting next to Emmy at one of Anthony's wine tastings. In the midst of a wildly esoteric repartee about how that last wine tasted of dirty cowboys she told me about a possible book storyline. "Yes, I'm surprised it hasn't been done before. It's a sci-fi about the farming of lady's milk and the personal, cultural, and political ramifications of that reality." The conversation with Emmy was blowing parts of my mind into little bits. In a good way.
"She's a creative thinker," I mused. So when I found out that Emmy was getting a bunch of people together for a story telling event I was psyched. She's funny; she's been on Comedy Central and in movies and written award-winning screenplays and books. And the other participants are all edgy and smart and making things happen in their own way. Masters of suspense, old time environmentalists, slam poets, and hot new authors all will be in the house February 27th.
Spine out is free and promises to jiggle things around in your brain. You might just get a good story out of it.