When:
February 27, 2015 @ 7:00 pm – 9:00 pm
2015-02-27T19:00:00-05:00
2015-02-27T21:00:00-05:00
Where:
CILK119
119 Main Street
Nanuet, NY 10954
USA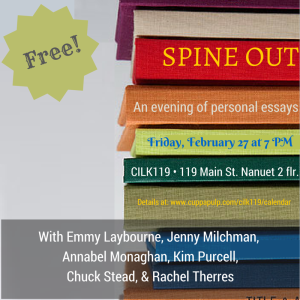 Novelists, storytellers, and  poets will share tales from their personal experiences in this spoken word event. Presenters include:
Emmy Laybourne is a novelist, screenwriter and former character actress. Emmy's Monument 14 trilogy has earned critical praise ("Frighteningly real… riveting" – New York Times Book Review, Editor's Choice) and has been nominated by readers to the YALSA Teens Top Ten in 2013 and 2014. Emmy's book SWEET is due out in June 2015. It tells the story of a luxury cruise to launch a new diet sweetener that goes comically, then tragically, then terrifyingly wrong.
Before her life as an author, Emmy performed original comedy on Comedy Central, MTV and VH1; and acted in the movies "Superstar," "The In-Laws" and "Nancy Drew," among others. Emmy lives outside New York City with her husband, two kids and a flock of 6 nifty chickens.
Check out emmylaybourne.com and also sign up for Emmy's mailing list for a chance to win giveaways, hear about upcoming appearances and to find out all the latest about the Monument 14 movie deal at www.emmylaybourne.fanbridge.com/. You can also follow Emmy on Instagram, Twitter or like her over Facebook
Annabel Monaghan: Author of two novels for young adults, A Girl Named Digit and Double Digit (Houghton Mifflin Harcourt), Annabel is also co author of Click! The Girls Guide to Knowing What You Want and Making it Happen (Simon and Schuster). She grew up in Los Angeles, pondering traffic and what motivates people to put bumper stickers on their cars. She has since become an avid bumper sticker collector, and like Digit, displays them only inside her house.
Monaghan writes a bi-weekly column for The Rye Record and is a lifestyle columnist at The Week. She is also a regular contributor to The Huffington Post. Annabel has a degree in English from Duke University, an MBA from The University of Pennsylvania and a brief history as an investment banker. She lives in Rye, New York with her husband and three sons. Check her out @http://annabelmonaghan.com
Kim Purcell: Critically acclaimed author of Trafficked, Kim is from Prince George, a small town in Northern Canada. She went to the University of British Columbia in Vancouver, BC, and studied International Relations with a focus on Economics with a minor in English, followed by journalism school at BCIT to be a broadcast journalist. Kim worked briefly as a radio reporter, after she left she moved to Korea and started teaching English as a Second Language. She currently lives in Brooklyn, Park Slope New York, with her two daughters.  She also contributed to Pens on Fire, a book  of writing experiments for teachers of teens. Check her out @http://www.kimpurcell.com
Jenny Milchman: Jenny Milchman is a suspense writer from New York State. Jenny's debut novel, Cover Of Snow, was published January 2013, earned starred reviews from Publishers Weekly and Booklist, as well as praise from the New York Times, San Francisco Journal of Books, the AP, and many other publications. It was an Indie Next and Target pick, won the Mary Higgins Clark Award for best suspense novel of 2013, and was nominated for the 2013 Macavity and Barry Awards for best first novel. Her second book Ruin Falls, also an Indie Next Pick, was published in 2014 to starred reviews from Booklist and Library Journal, and chosen as a "10 Best of 2014" by Suspense Magazine. Jenny's third novel, As Night Falls, will be published on June 30th, 2015.
Jenny is also Vice President of Author Programming for International Thriller Writers, and the founder of Take Your Child to a Bookstore Day, which was celebrated by over 800 bookstores in all 50 states and multiple foreign countries in 2014.
On her blog, Jenny hosts the Made It Moments forum, which has featured more than 300 international bestsellers, Edgar winners, and indie authors. She also founded the literary series Writing Matters, which attracted guests coast-to-coast and received national media attention, and teaches writing and publishing for New York Writers Workshop. Check her out @ http://www.jennymilchman.com
Chuck Stead: Chuck's stories chronicle the ongoing struggle between humanity and nature, as well as the regional character of the indigenous population in the Ramapo Hills. Chuck is currently teaching at Ramapo College and is the Environmental Educator with Cornell Cooperative Extension of Rockland. He recently received his doctorate in Environmental Studies from the University of Antioch School of Environmental Studies.
Rachel Therres: Rachel Therres co-organizes both Suffern Poetry and NYC Urbana slam. This August marked her second year competing on the Suffern Slam team at the National Poetry Slam. By day she is an artist teacher, by night you can find her in poetry venues, scrawling down notes or twisting out sketches. She is a Baltimore girl in a New York world. She is so thankful for poetry and community.