Aug, 30, 2013
Comments Off

on Rambling Through "&Sons" by David Gilbert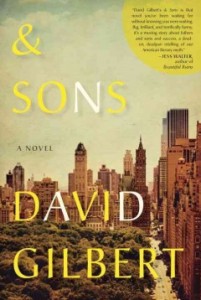 Wade into &Sons, the epic New York novel by David Gilbert, with both eyes open. For one thing, you don't want to miss a single beautiful turn of phrase, and the characters' portraits, with the possible exception of young Andy Dyer, who is simply a "likable bastard," to quote the New York Times, are as close to flawlessly drawn as you will find. For another, it's easy to lose the story in that lovely language. You have to pay attention. Except for the beauty of Gilbert's prose, you may wonder why the novel fills over 400 pages. But much of this story, especially the portraits and the masterfully drawn New York tableaux, will stay with you long after you close the book: the mark of a good read.
&Sons, Gilbert's second novel, revolves around the family of A.N. Dyer, known as Andrew, an aging celebrity novelist who appears modeled after several real-life curmudgeonly, reclusive writers of the last century. Most reviewers recall J.D. Salinger, but Dyer has been significantly more prolific, publishing 16 acclaimed novels spanning 30+ years. We meet Andrew at the funeral of his oldest friend, Charlie Topping, whose son, Philip, tells the tale. Andrew is in his twilight years. Andrew's obsession, seemingly in response to Charlie's death, is twofold: recreate the first draft of his seminal first novel, Ampersand, and recreate his family with a desperate call to sons Richard and Jamie for a reunion in New York City.
Andrew's youngest son, Andy, only seventeen, is the delight of his eyes–and also, unfortunately, the child of an extramarital relationship, painted rather fantastically as the writer's love affair with himself (the details which are one of the oddest surprises in the novel). Andy's birth estranged Andrew from his wife and two older children, but it is the loyal Philip who is treated as an outsider, though he grew up alongside the Dyer boys. Philip has struggled all his life to understand why this should be so. In the wake of his father's death, he pores over Andrew and Charlie's lifelong mysterious and intimate correspondence, which seems to hold the key.
&Sons has been characterized by New York author Fran Lebowitz as "a New York novel written by an actual New Yorker." If you add to this that Gilbert is a repeat New Yorker fiction writer, you will have an idea of the his level of artistry, and of the attitudes that direct his voice. Scenes such as Andy and his cousin Emmett pursuing a favorite pretzel vendor through Central Park, or a flirting girl texting Andy to find her near a nameless work of art in the Metropolitan Museum, define this novel's world, as do scenes that take place outside of New York City. Reality filmmaker Jamie Dyer sojourning to a midnight country graveyard in Vermont, the resting place of his high school sweetheart, reformed drug addict Richard Dyer aping the attitudes of his adopted sun-drenched west-coast lifestyle, play up New York's central role in this well-wrought world–no other place seems quite so real. The city is venerable, unapologetic, and grand, harboring lovely secrets like a nest of red-tailed hawks near Central Park, or the owner of a neighborhood burger joint who never forgets the face of an old customer, even when one returns as a tormented artist, or burnished with an L.A. tan.
Absolutely worth relishing the melange of character and evocative tableaux in &Sons, but don't measure it too closely with your plot-mapper.