May 28, 2014 Cuppa Pulp owner and manager Donna Miele got her MFA this month–and then this happened…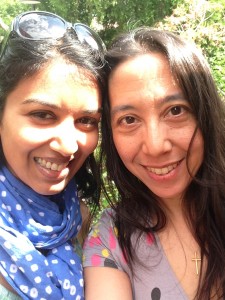 After a friendly writing session hosted by Nyack writer Anu Amaran, Donna and Anu talked about dreams for a Rockland literary community. Anu is a poet, and Donna is a fiction writer. Anu had built some momentum around salons and free-write gatherings, and Donna had similarly hosted a few writing events. Both writers agreed that working alone was not the best situation, and recalled good experiences with cross-genre workshops. It seemed like a perfect occasion for a poet and a fiction writer to team up.
See our Calendar or News and Events pages for information on upcoming offerings. All fees to events hosted at Cuppa Pulp go to Seranam Literary Arts to build and enhance the local writing community. 
Introducing Seranam Literary Arts
Indian-American poet & translator Anu Amaran is a graduate of the MFA in Writing program at Vermont College of Fine Arts, and founder of Seranam Literary Arts. Her poetry has appeared in Fourteen Hills, Monkeybicycle, The Bitter Oleander, decomP magazinE, Bayou Magazine, ellipsis, CutBank, Green Hills Literary Lantern, St. Ann's Review, Diverse Voices Quarterly, The Tulane Review, The Alembic, Permafrost Magazine, and other publications. Find essays, reviews, translations, and more poems at Numéro Cinq Magazine, where she is a contributing writer. Check out her recent profile in Nyack News and Views' Local Arts Index. 
She says of her hopes for Seranam, "I dream that one day we will publish a literary journal and offer workshop collaborations with veterans'/youth/seniors organizations, but all that will come in its own time! Seranam Literary Arts is a new organization dedicated to promoting literary creativity through writers' workshops, literary & art events, readings, and salon evenings in and around the Hudson River village of Nyack, New York."